CleanRewards:
Where better hand hygiene rewards in more ways than one!
---
CleanRewards is a new pilot program that the Medonyx gelFAST team has developed. It was created to provide an ongoing positive-reinforcement incentive for caregivers to wear their gelFAST units.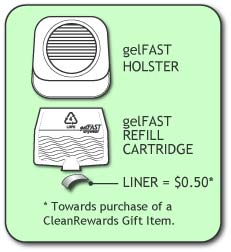 Caregivers collect peel-off cartridge seals ("stamps") from their gelFAST cartridges. These small white and silver 1.5 cm square liners are removed when a new gelFAST cartridge is started.
Each "stamp" is worth $0.50 towards the purchase of any product available in the Medonyx CleanRewards catalog.
The Medonyx CleanRewards catalog contains desirable household objects like picture frames, clocks, etc. We offer an extensive (1000+) collection of products, all of which are beautifully designed, ranging in price from $4.50 and up, with many in the $20-40 range.
Caregivers redeem their "stamps" through a mail-in form sent to Medonyx. CleanRewards gift products are then shipped to the hospital's infection control office, for pick-up by the caregiver.
CleanRewards products become the sole property of the individual caregiver.
---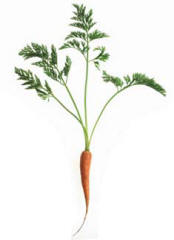 CleanRewards uses the "carrot" rather than "stick" method of management and behaviour reinforcement.
CleanRewards links together better patient care behaviour with personal rewards. During the critical moments at the beginning of a caregivers' day, when preparing to come in to the work shift, when gathering all of the items needed to come in (keys, wallet, ID cards, gelFAST), CleanRewards pulls users into better compliance, rather than relying on management staff to push better behaviour.
---
Where is CleanRewards Available?
CleanRewards is available to U.S. and Canadian hospitals on gelFAST programs. There is a minimum user number criteria. Please contact your Medonyx representative to discuss your facility's eligibility for this innovative program.
Our representatives are available toll-free at 1 (866) MEDONYX, or (416) 633-6990, Monday - Friday, 9:00 AM to 5:00 PM, Eastern Standard Time. Or you may contact us by email.
---
As a new gelFAST cartridge is opened, the caregiver keeps the liner "stamp". They collect it, on an individual caregiver basis. They can keep them anywhere, in a purse, envelope, etc. Each stamp is worth $0.50 in CleanRewards merchandise.
Caregiver refers to the Medonyx CleanRewards gift catalog to browse products of interest and to review prices.
Once a desired product has been identified, and enough "stamps" have been accumulated to execute a purchase, a CleanRewards Checkout Form is filled in by the caregiver.
Checkout Form includes hospital's shipping information, which gift product has been selected, cost of product, and a space for attaching the collection of original "stamps." This completed form is then mailed to Medonyx, which distributes the CleanRewards product back to the caregiver via the Hospital's infection control office.
Note that "stamps" are not recognized in stores, and are only redeemable through Medonyx.
---
Fraud Prevention: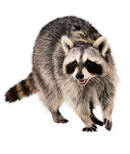 While the vast majority of users behave honestly, there may be a small minority who attempt to take unfair advantage of the CleanRewards opportunity. To address this, Medonyx has several measures in place, including, but not limited to:
1) Sign-off: For a clinician to redeem their gift product, the clinician's own unit manager signs off of the gift redemption form.
2) Delivery: CleanRewards gifts are delivered to the Infection Control office of participating hospitals. They are then either picked up by the clinician or delivered by Infection Control staff.
---
How much extra will this cost?
Nothing. Medonyx absorbs all product costs of this program. Yes, you read that correctly. It is our way of saying "Thank you" to our gelFAST clinical partners.
---
Please find the CleanRewards Binder files posted below, as PDF files.
(Adobe Acrobat Reader is required).
Downloads:
Individual sections are available for download:
Cover Page
Welcome to CleanRewards
CleanRewards Catalog: Special Deals (under $15)
CleanRewards Catalog: Section I
CleanRewards Catalog: Section II
CleanRewards Catalog: Section III
Gift-Redemption Checkout Form & Stamp Page
---
NOTICE:
The CleanRewards program is offered to facilities on contract with Medonyx Inc. Gift items are subject to change in availability status without notice. In cases where discontinued items have been selected, CleanRewardee will be contacted to coordinate a gift substitution. Gifts are shipped via standard post, subject to standard postal lead times. Upgraded shipping services available at a charge. Please contact a Medonyx representative for full details on terms and conditions of the CleanRewards program. Thank you and make Clean Rewarding! (866) MEDONYX (416) 633-6990. (C) Copyright 2007 Medonyx Inc.